The guest blogger that I'm featuring today is the wonderful Kristy from Keepin' It Kind! You may remember that I did a delicious cookie recipe for her blog, in December; well, now it's time for her to return the favor!
Kristy has some incredibly creative recipes, paired with her husband's photography they make a vegan food porn dream team! So, welcome her to the site!
I am so excited that Jackie asked me to be here today! It is such an honor being able to do a guest post for one of your favorite blogs and I am so grateful for this opportunity!
When I was younger, my family was all about those "Cream of _______" soups. You know the kind- they come in the red and white can and they're super thick and overly salty because they're "condensed." I was taught very early on that these were very unhealthy and not really to be eaten unless they were mixed into some sort of casserole, usually topped with a crumbled chip or cereal of some sort (because unhealthy casseroles were okay???).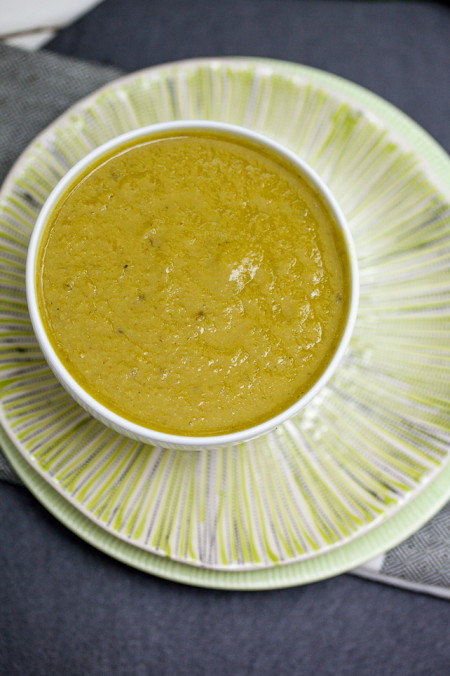 As I got older, and more conscious of my food choices, whenever I would see a "Cream of Something" soup on a restaurant menu, I would look the other way because anything starting with "Cream of" meant my jeans would be tight for days on end. "Cream of ________" soups became the enemy.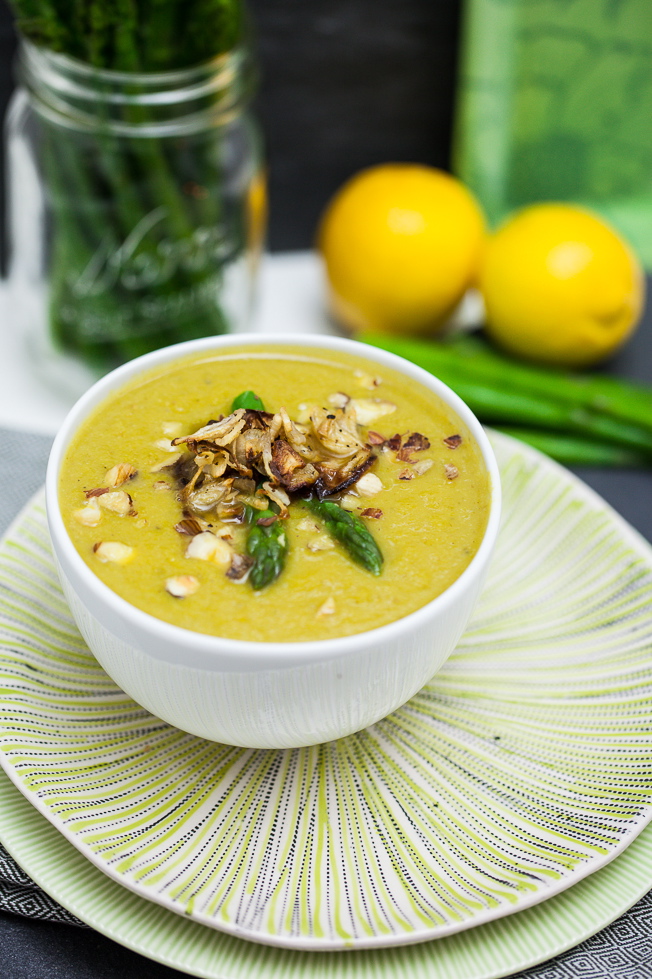 Now I know that there are ways to get a super creamy soup without little to no milk or cream! You can enjoy the richness of a creamy soup without all the calories and fat, not to mention all of the unnecessary animal products!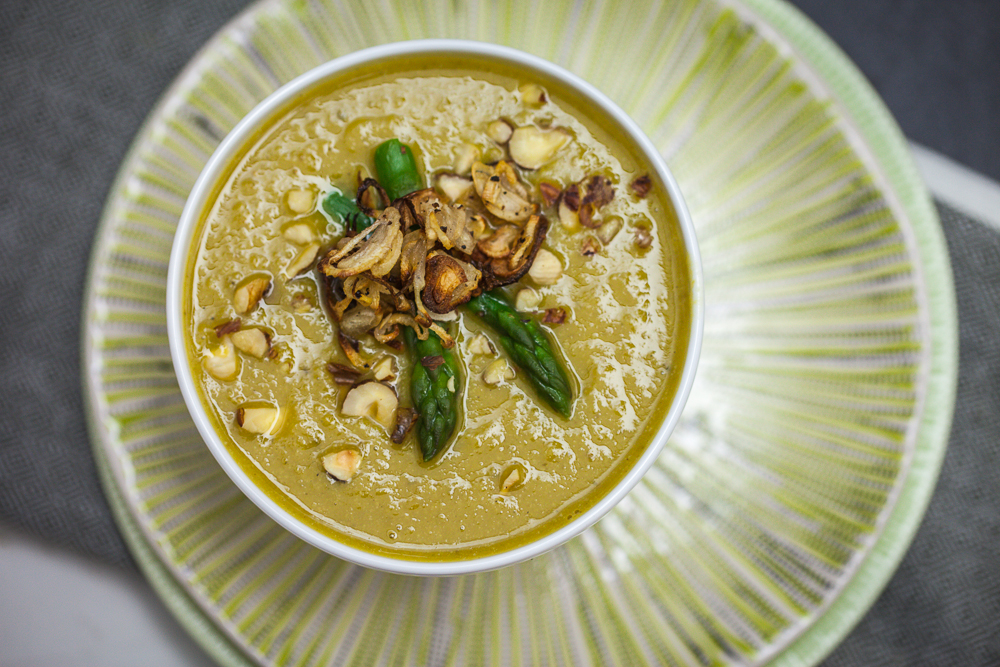 Take this soup, for example. This Cream of Asparagus soup is completely vegan and only has 2 tablespoons of soy creamer (which is an optional ingredient- I usually make this soup without it)! This soup gets it's decadent creamy texture from none other than cauliflower. The cauliflower, when added to the soup base along with the broth, becomes super soft while cooking, and when you puree the soup, you get a silky, creamy finish. To add some additional flavor and texture, I served the soup topped with toasted hazelnuts and crispy shallots (which are roasted, not fried).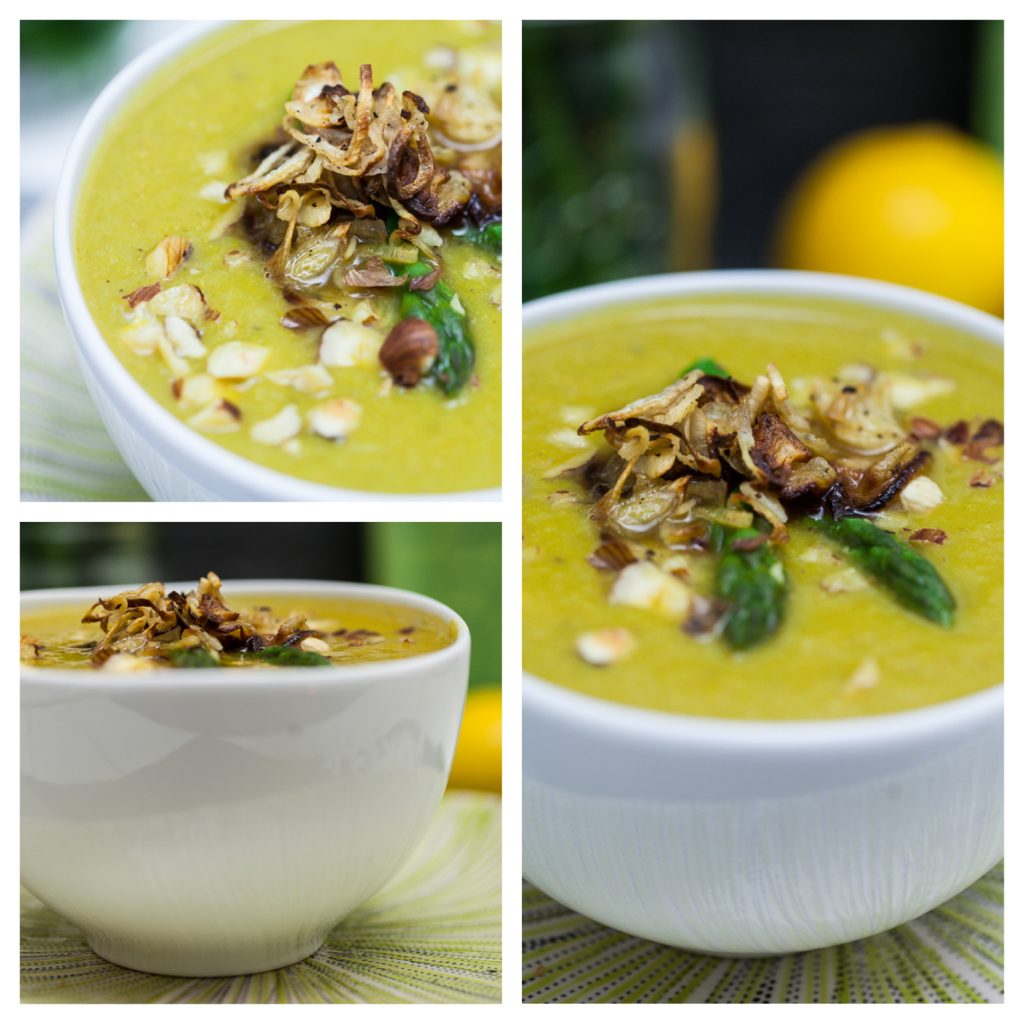 This soup makes for a very healthy, delicious, and impressive meal, which will not affect how your jeans fit at all.