Whole Wheat Blueberry Pancakes with Blueberry Topping
I made these pancakes for a couple friends, my parents and I Sunday morning and they were both delicious and extremely filling. This recipe serves roughly 5 people perfectly and is super easy! (Although you may want to make more topping than I)
Based off of my last recipe for Banana Pancakes with some changes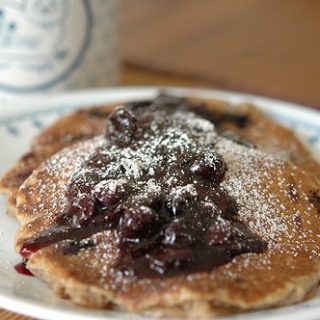 Delicious whole wheat pancakes dotted with sweet blueberries and covered in a delightful fruit topping.
Ingredients
Pancakes
2 Cups Whole Wheat Flour
2 Tbsp . Agave Nectar
4 Tbsp . Baking Powder
1/4 Tsp . Salt
2 Tsp . Cinnamon
4 Tbsp . Ground Flaxseed
1 Cup Almond Milk
1 1/2 Cup Water
4 Tbsp . Coconut Oil, liquid form
1 1/2 Cups Fresh Blueberries
Topping
2 Cups Fresh Blueberries
1/4 Cup Agave Nectar
1/2 Cup Water
2 tsp . Arrowroot
Instructions
Pancakes- Mix all dry ingredients together and all liquid ingredients together in separate bowls.
Then, add the wet mixture to the dry and stir together until smooth, add more water if necessary. Do not over mix.
Pour pancake batter onto a oiled, flat skillet heated to medium in 5" circles.
When bubbles start coming out of the top flip the pancake over and cook for 2-4 more minutes or until desired darkness.
Topping- Put blueberries in a small sauce pan, over medium/high heat.
Add in water, agave and arrowroot. Bring to a boil/simmer and let it simmer over medium heat for another 10-15 minutes until it reduces a bit and thickens.
Make sure to stir every couple of minutes, let cool and then top your delicious pancakes!
Nutrition Information:
Yield:

4
Serving Size:

1 grams
Amount Per Serving:
Unsaturated Fat:

0g