A refreshing Grilled Peach Lassi with grilled fruits and creamy coconut yogurt. Simple, delicious, and dairy-free! Vegan, Nut-free
[wprm-recipe-jump]
NEWS FLASH: It's hot outside. Summer is definitely here, and it's time for cool foods and beverages. This grilled peach lassi is a mix of both; filled with sweet peaches and coconut yogurt, it makes a great snack for chillin' out. Drink it in front of a fan or air conditioning vent for full effect.
Since my last post, I've been trying to stay cool, myself; while hanging out as much as possible with Corey, as he only had a week and a half break between tours. I say had, because he's already gone again! Took him to the airport yesterday for sad goodbyes, and I'll be seeing him in two months. Yikes. But, hey, that means I have a lot of extra time. 😉
The past few days I've been away from home and my kitchen, so there's been a lot of dining out. Today I was back at it, but didn't want to do anything to labor intensive. That's where this lassi experiment comes into play! I sat down, staring at the aging peaches on my counter, wondering what I should do with them. Grilling is always fun in the summer, but I wanted something cold and refreshing. BOOM! Peach Lassi.
And now we're here, together, and I have this super easy and delicious recipe for you.
One Year Ago: Grilled Sourdough Sammie with Jalapeno Aioli // Two Years Ago: Cucumber Peach Salad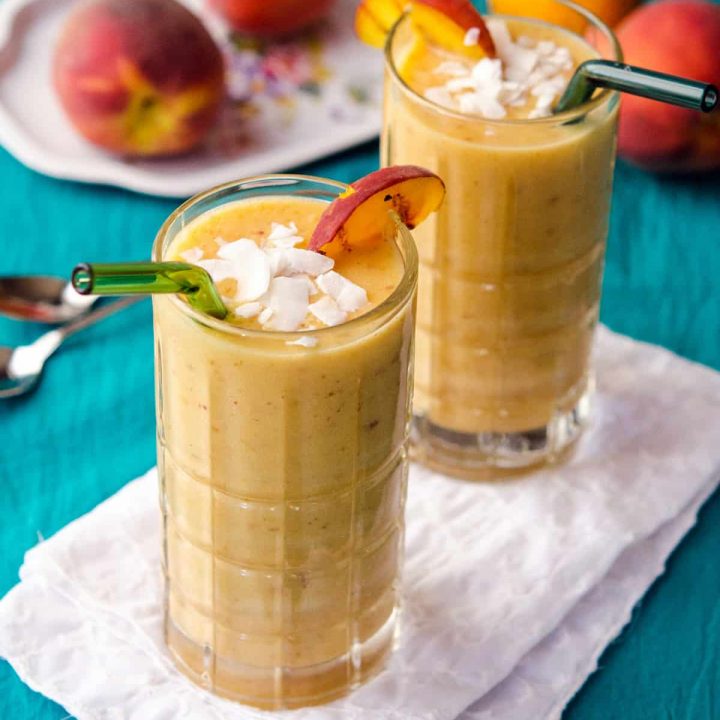 Grilled Peach Lassi
A refreshing Grilled Peach Lassi with grilled fruits and creamy coconut yogurt. Simple, delicious, and dairy-free!
Ingredients
2 1/2 C . Peach Slices, Approx. 3 Medium-sized Peaches
2 C . Ice Cubes
1 C . Coconut Yogurt
1/4 C . Water
1/4 C . Fresh Orange Juice
1-2 T . Agave Nectar or Maple Syrup
Optional: Brown Sugar or Cinnamon
Instructions
Grill peaches for 3-5 minutes on each side, or until there are dark grill marks on each side.
If you want it to be a little more decadent, sprinkle some brown sugar on the peaches while they are grilling.
Next, you can either wait for them to chill in a freezer/fridge or throw them into a blender with the rest of the ingredients and blend until complete smooth.
Garnish with a grilled slice of peach and serve.
Nutrition Information:
Yield:

2
Serving Size:

1 grams
Amount Per Serving:
Unsaturated Fat:

0g
Stay hydrated and as cool as you can be out there, everyone!