Summery, sweet, Stone Fruit Bruschetta Orange Cream Crostinis that are great for any get-together, big or small!
[wprm-recipe-jump]
Bruschettas of the fruit variety are nothing new, as far as recipes go. Even the traditional tomato one falls into that category, with tomatoes being a fruit and all. I've seen a couple of different fruit combinations over the last couple of years, since starting my blog; but have not made one, myself. Once I saw a picture of a strawberry bruschetta, I knew that I needed to try my hand at it.
Ever since I wrote a Crostini recipe for VegNews Online, I've made a couple of different recipes like it. The one that I have for you, today is a sweet, fraternal twin version of the first. The may look totally different, but they have similar parts and are terrific in their own ways.
The first crostini is savory, with its salty olive-mushroom tapenade, garlicky cashew cream, fresh basil and balsamic, it makes for a sophisticated appetizer. This recipe has the perfect summer fruit bruschetta made of sweet cherries, white peach and cooling mint. When laid atop a layer of subtly sweet orange cashew cream, it turns into a playful appetizer better served with a margarita, as opposed to a more reserved red wine.
Before you think, "This looks complicated," I assure you, it's definitely not. Think of it this way: Dice, toss, blend, toast, layer, serve. Straight up, that easy. Now, go on, get some friends together, enjoy the summer sun and munch on these tasty Stone Fruit Bruschetta Orange Cream Crostinis!
One Year Ago: Summer Garden Wraps // Two Years Ago: Spicy Mushroom Tacos
Yield: 15
Stone Fruit Bruschetta Orange Cream Crostinis
Summery, sweet crostinis that are great for any get-together, big or small!
Ingredients
Cashew Cream
3/4 C . Dry Raw Cashews
1/4 C . Dates, Pitted
1/3 C . Date Soak Water
2 1/2 T . Fresh Orange Juice
1 T . Agave Nectar
1 tsp . Orange Zest
Bruschetta
3/4 C . Finely Diced White Peach, Pitted
1/2 C . Finely Diced Sweet Cherries, Pitted
1 T . Fresh Mint, Minced
Assembly
15- 3/8 Slices " of a Sourdough Baguette
Optional: Agave drizzle before serving
Instructions
Soak the cashew and dates in separate cups of warm water for an hour. Or use boiling water to shorten the soak time.
While they are soaking, toss the diced peaches and cherries together in a small bowl with the mint. Place in the refrigerator to chill.
Once the cashews are done soaking, drain and rinse them, then place them into a food processor or high-speed blender.
Next, measure out 1/3 C. of the date soaking water and add it to the blender, along with the drained dates.
Place the orange juice, agave nectar and orange zest into the blender, as well, and puree until very smooth. You may need to add more water depending on your appliance.
Put the cashew cream in the refrigerator to chill.
Preheat the oven to 350ºF. Place the sliced bread onto a baking sheet (does not need to be oiled).
Bake the bread for 3-4 minutes on each side, take out of the oven and let cool.
If you are serving these at a party, I would wait to assemble them when you arrive, or else the crostini may end up soggy.
For assembly, use a spoon to place a large dollop (approx. 1 1/2 T.) of cashew cream on each crostini.
Next, top it with a tablespoon or so of the stone fruit bruschetta. If you want this to be more of a mini-dessert, drizzle it with agave before serving.
Nutrition Information:
Yield:
15
Serving Size:
1 grams
Amount Per Serving:
Unsaturated Fat:

0g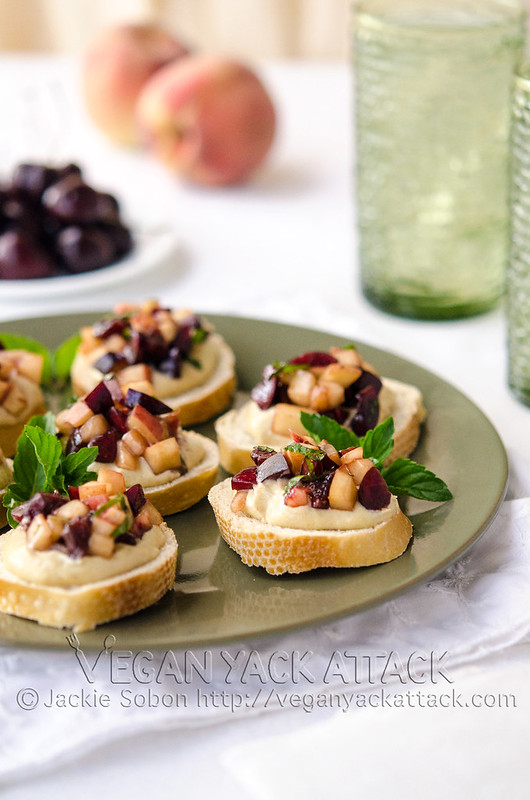 Gorgeous little jewels, aren't they? 😉