These Bloody Berry Cupcakes are festively fun and gluten-free! Try them out on any group of friends for the upcoming holidays.
When I was a Brownie, my troop members and I would get together for sleep-overs all of the time. There were a few girls who liked scary stories, and talking about folklore; there was even a Ouija board brought out at one point. But one story that I will always remember being whispering around a campfire, was that of Bloody Mary. Even still, when brought up, the chance appearance of Bloody Mary in your mirror is creepy and chill-inducing.
Of course, it is only appropriate that the thought of her arises around this time of the year. While coming up with a delicious, gluten-free cupcake recipe for a dinner, last night, I decided to make something fun and festive. Using frozen berries to give the appearance of bloody ooze is what gives this recipe its name. I assure you, there is nothing creepy about how good these Bloody Berry Cupcakes are!
First of all, we have a moist, gluten-free vanilla cake base, then it is cored and stuffed with a cream cheese/berry mixture, and lastly is topped with berry and chocolate drizzles. The great thing about these is that they don't have to be nice and neat and perfect. Get sloppy with it! You could also try dunking the cupcakes in the chocolate then splattering the berry mixture on top. Fun!
I must mention that these cupcakes were devoured gleefully, and that there were no disappointed faces amongst us. Some were surprised that these were gluten-free cupcakes because of how moist and non-brick-like they were. I've added some notes to the recipe concerning flour changes, etc. which makes this recipe pretty flexible.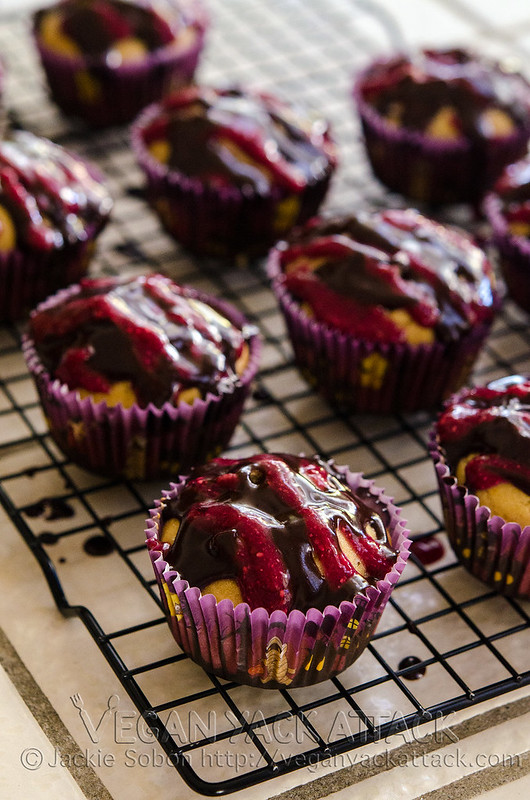 One Year Ago: Gluten-Free Spiced Chocolate Cookies with Pumpkin Icing // Two Years Ago: Halloween Sugar Cookies
Gluten-Free Bloody Berry Cupcakes!
These cupcakes are festively fun and gluten-free! Try them out on any group of friends for the upcoming holidays.
Ingredients
Cupcakes
2 C . All-Purpose Gluten-free Flour (I used Wholesome Chow Brand, see notes)
1 C . Organic Sugar
1/2 tsp . Baking Soda
Pinch of Salt
1 C . Cold Water
1/4 C . Apple Sauce
1/4 C . Olive Oil
1 T . Apple Cider Vinegar
1 T . Vanilla Extract
Berry Mixture & Filling
1/2 C . Frozen Strawberries, Thawed, Or Mixed Berries
1 T . Water
1/2 tsp . Maple Syrup
1 1/2 tsp . Chia Seeds
1/2 C . Vegan Cream Cheese, at room temperature
Chocolate Drizzle
1 1/2 T . Hot Water
4 T . Vegan Chocolate Chips
Instructions
Preheat oven to 350F and get a 12-ct. Cupcake pan ready with liners.
Sift together the flour, sugar, baking soda and salt in a large bowl. In a smaller bowl, whisk together the cold water, applesauce, olive oil, apple cider vinegar and vanilla extract.
Pour the wet mixture into the dry and stir until there are no clumps in the batter.
Use an ice cream scoop or ladle to fill the cupcake liners 3/4 of the way full. Place the pan in the oven and bake for 18-20 minutes, or until an inserted toothpick comes out clean.
While the cupcakes are baking, blend together the berries, water, maple syrup and chia seeds until as smooth as you can get it. Set aside for 15-20 minutes to gel.
Once the cupcakes are out of the oven and on a cooling rack, let them sit for 30 minutes before taking the next step.
When the cupcakes are cool, take an apple corer and sink it into the middle of each cupcake about 1-1 1/4" down. Place the excess in a bowl for snacking on. 😉
Place the cream cheese in a small bowl and whisk until smooth, then gently fold 2 T. of the berry mixture into it so that it is swirled.
Fill each cupcake to the top, with the cream cheese mixture, using a small spoon.
Whisk together the hot water and chocolate chips until smooth and completely melted, then drizzle each cupcake with it.
Next place the berry mixture into a piping bag with a small circle tip, or a ziploc
Place the cupcakes in the refrigerator to chill for 20-30 minutes before serving.
Notes
-If you are using a different GF flour brand, that doesn't have baking soda already in the mixture, add 1/2 tsp. of baking soda.
-You can use a blend of 1 C. All-Purpose Unbleached Flour + 3/4 C. Whole Wheat flour for a gluten-full delight.
Nutrition Information:
Yield:

12
Serving Size:

1 grams
Amount Per Serving:
Unsaturated Fat:

0g
Here are some more festive recipes!
So, go one, enjoy these with some friends while dressed up in funny costumes. Have a fantastically fun and safe Halloween, everyone!