If you're all about gifting food, or just eating really great sweets, this vegan peppermint s'mores fudge is the perfect recipe! Fudge is inherently pretty easy to make, but there is a very hard part: waiting for it to cool before enjoying.
Firstly, I'm so sad that my regular blog posting got derailed last week! If you didn't see my instagram story, I ended up sick in bed after wearing myself out cooking two thanksgiving dinners. So, as much as I tried to be, being productive didn't happen.
BUT, there will be two blog posts this week to make up for it, this being one of them. Though I am very excited for the soup recipe that I'm posting! Mostly because the ginger turmeric soup IS something I made while I was sick, and it was fantastic. (I have some in the freezer still and can't wait to eat it later)
Now, the deal with this fudge recipe is that I actually made it last year. I had been inspired by the Cranberry Orange Fudge I had made for the VegNews Holiday Issue and wanted to make a different version. Clearly, I did! But, I ended up running out of time putting the whole post together and shared the recipe on Instagram only.
Personally, I don't like using recipes off of IG, so I knew this vegan peppermint s'mores fudge needed a dedicated blog post! That way we get the process shots in there, and you get to read me waxing poetically over food. 😉 On a semi-related note, I was reading a thread on FB asking if people preferred process shots or just final product shots and found it really interesting. What do y'all think? Do you find them helpful? Let me know in the comments!
Before I get to the recipe, I want to note a few things! As you can see above, I toasted the marshmallows with a kitchen torch, on top of the fudge. Don't have a torch? You can place marshmallows on a skewer and bulk-toast them over a stove burner. You're also welcome to forgo the toasting altogether if it seems too complicated! Though, you may miss out on a little of that toasty flavor.
1 year: Chocolate PB Candy Bites // 2 years: Baked Vegetable Pakoras // 3 years: Crustless Bacon Brussels Quiche // 5 years: Roasted Butternut Garlic Bisque // 6 years: Apple Pie on the Rocks // 7 years: Pecan Persimmon Oatmeal // 8 years: Orange Marmalade Thumbprint Cookies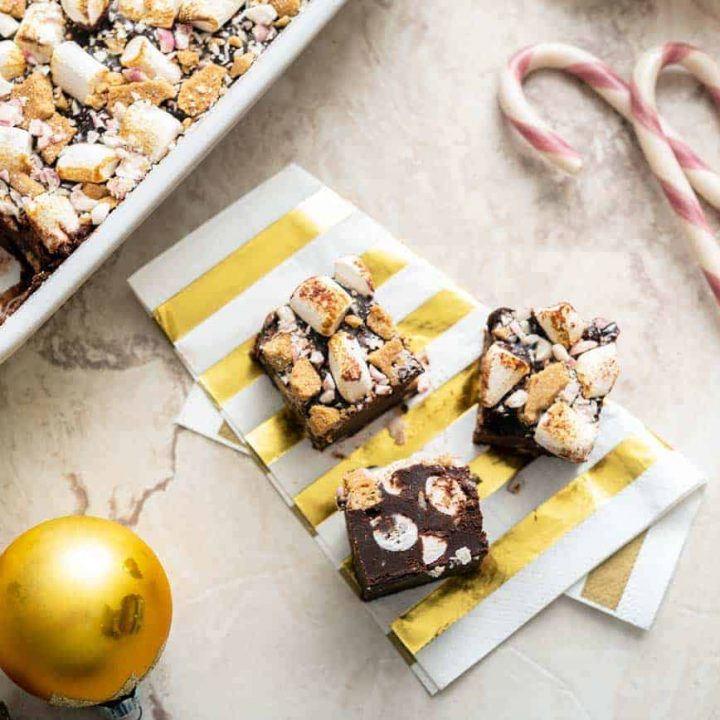 Vegan Peppermint S'mores Fudge
Additional Time:
1 hour
30 minutes
Total Time:
1 hour
45 minutes
If you're all about gifting food, or just eating really great sweets, this vegan peppermint s'mores fudge is the perfect recipe!
Ingredients
4 cups semi-sweet chocolate chips, dairy-free
1 cup (235 ml) full-fat coconut milk
1/2 cup (120 ml) maple syrup
1/4 cup vegan butter
1 1/2 teaspoons peppermint extract
Pinch of salt
1 cup vegan marshmallows, divided
3/4 cup chopped vegan graham crackers, divided (I used gluten-free)
5 tablespoons crushed candy canes, divided
1/8 teaspoon coarse salt
Instructions
Lightly grease an 8x8-inch (or slightly larger casserole dish) with vegan butter.

Fill a small pot with an inch of water, place a large glass or metal mixing bowl over the top, to make a double boiler. Over low heat, melt the choc chips, milk, maple syrup, butter, extract, and salt together until completely smooth.

Fold 1/2 cup marshmallows, 1/2 cup grahams, and 3 tbsp. candy canes into fudge base until evenly incorporated, then transfer to greased dish.

Sprinkle remaining marshmallows over the fudge (you can toast them beforehand over a flame, or after with a kitchen torch), then grahams, candy canes, and salt. (Press down lightly to set toppings)

Refrigerate for 60 to 90 minutes, or until firm, before cutting and serving. ENJOY!
Notes
For gluten-free, vegan graham crackers use Kinnickinnick brand.
A tip on crushing the candy canes: I unwrapped them then put them in a paper bag and hit them with my large citrus reamer, but a mallet will also work!
Love desserts like this vegan Peppermint S'mores Fudge? Check out some other great options for the holidays, below!