Cookbooks:
NEW! Vegan Yack Attack's Plant Based Meal Prep (now available!)
Order through clicking the logos below or cover image below:

"Vegan Yack Attack's Plant-Based Meal Prep is an excellent resource for anyone who is ready to step into plant-based cooking, without spending a fortune on groceries or hours in the kitchen! Not only will Jackie help you develop healthy habits with your hectic schedule, her photos will also have you inspired to try every recipe in the book!" –Toni Okamoto, author of Plant-Based on a Budget
"Three cheers to Jackie who did all of this incredible organizing so we don't have to! She's literally taken care of everything in this cookbook: nutrition info, menus, step-by-step prepping, and even shopping lists. Also, the recipes are easy, inspiring and made with the most wholesome of ingredients. Guaranteed you'll be meal prepping and eating like a level 10 vegan in no time!" — Lauren Toyota, bestselling author of Vegan Comfort Classics: 101 Recipes to Feed Your Face and creator of hot for food
A wonderful testimonial by one of my recipe testers (below) for Vegan Yack Attack's Plant-Based Meal Prep! I can't wait for you all to see this one!
Blog tour info:
ERRATA: On page 20, the Chimichurri recipe should point to page 163, page 87, the Cilantro Cashew Dressing should point to page 161, on page 101 the Seitan Cutlets should point to page 168, and page 161, the jalapeño should be added to the blender with the rest of the ingredients.
---
Vegan Yack Attack On the Go! cookbook

"Plant-based recipes that fit your busy lifestyle!
If you're a vegan and frequently on the go, it can be hard to eat well while still maintaining your plant-based lifestyle. You need options you can make in advance, take with you, or prepare quickly and easily once you get home.
Vegan Yack Attack on the Go! has all of these scenarios covered and more. It's the cookbook you'll use over and over again, with recipes developed for real-life. Author Jackie Sobon, the plant-based rockstar behind the blog Vegan Yack Attack, will be your guide, offering beautifully photographed recipes you not only want to eat, but can whip up in any slice of time you can carve out, whether it's at night, in the morning, or on a lazy Sunday."
Reviews:
Quotes:
"Redefines "fast food" by combining easy recipes with smart tricks, tips, and techniques that add fun, sustainability, and color for people who are always on the go and in a hurry — like me!" – Author, Founder and CEO, Miyoko's Kitchen
"Creative and Cravable Recipes, Gorgeous Photos! From lunchbox meals to quick breakfasts and snacks, Jackie's "On the Go" Cookbook is packed with creative and cravable recipes. The photography is inspiring, accessible and absolutely gorgeous, as usual per Jackie's style! Flipping through these pages will make even the busiest of people feel excited and empowered to hop in your kitchen and cook." – Kathy Patalsky, author of Healthy Happy Vegan Kitchen
"Now you really don't have any excuse not to go vegan and maintain a healthy diet. Vegan Yack Attack On the Go not only takes the stress out of cooking, but also allows you to make easy and nourishing meals that look as great as they taste. Also, if I become half as talented and cool as Jackie when I grow up, I will be a very happy lady." – Caitlin Shoemaker, Blogger at From My Bowl
Blog tour info:
Comprehensive Review on T.O.F.U. Magazine
Summer Stew on Healthy Happy Life
Live Demo of Summer Stew + Giveaway on Vegans, Baby!
Asparagus Omelet in a bag on Live Kindly
Easy Vegan Radio interview with JL Fields
Sheet Pan Squash Tacos on Trial and Eater
Coconut BLT+P and Giveaway on Veggies Don't Bite
Vanilla Chip Buckwheat Bars on Spabettie
Blueberry Zucchini Breakfast Cookies on Hello Glow
Let's Veg About It interview with Annette White AKA That Veggie Gurl
Cauliflower Curry Grill Packets on Veggies Save the Day!
Asparagus Omelet in a Bag + Giveaway on Bake and Destroy
Grill and Chill Salad + Giveaway on Vegan Mos
Portobello Fajita Salad on Nut Free Vegan
Creamy Berry-full Polenta on World of Vegan
Summer Stew and Giveaway on The Vegan 8
Coconut BLT+P and Campfire Banana Splits on Renae Smith
3 Easy Vegan Lunches (Jar Salad) Feature on MindBodyGreen
Creamy Berry-full Polenta on Go Dairy Free
Curry Cauliflower Packets on Hello Veggie
Grill and Chill Salad plus Giveaway on Dianne's Vegan Kitchen
Vanilla Chip Buckwheat Bars on Bear Plate
Creamy Berry-full Polenta on VNutrition and Wellness
Lentil Balls with Zesty Rice on Vegan in the Freezer
---
Vegan Bowl Attack! cookbook

Reviews:
Quotes:
"Vegan Bowl Attack is a must addition to your kitchen library. Jackie takes the simplicity of bowl food and elevates it to ninja level. The originality of these approachable recipes will appeal to all skill levels. Looking for that quick meal and simple bowl of health or just want to impress your foodie friends and family with your badass kitchen skills? This book has you covered!" – Chad Sarno, Chef and co-author of the Wicked Healthy Cookbook
"Jackie Sobon proves that you can eat anything in a bowl and it will be beautiful, sometimes surprising, and always delicious. Ideal for new vegans and life-long veg-heads who want to get excited about being in the kitchen." – JL Fields, author of Vegan Pressure Cooking: Delicious Beans, Grains, and One-Pot Meals in Minutes
"I've admired Jackie Sobon's cooking and photography skills since the day I laid eyes on her recipes. She understands what it takes to make quality food in your own kitchen and executes that wonderfully in this book." – Mary Mattern, Chef and Found of Nom Yourself
Blog tour info:
A wonderfully thorough review from T.O.F.U. Magazine!
Spicy Sushi Bowl and Giveaway from Veggies Save the Day
S'mores Pudding Bowl from Pickles 'n' Honey
Loaded Potato Breakfast Bowl and giveaway from Bake and Destroy
Kimchi Bowl with Red Curry Almond Sauce from Spabettie
Vegan Fish Taco Bowl from Healthy Slow Cooking
Cherry Amaretto Ice Cream from Go Dairy Free
Book Review from Vegansaurus
Smoky Corn Chowder from My Whole Food Life
Allergy-friendly version of the Apple Pie Smoothie Bowl from Xander Friendly Foods
A wonderful review complete with drawings! from Vegan Eats & Treats
Great review & Scramble Burrito Bowl from An Unrefined Vegan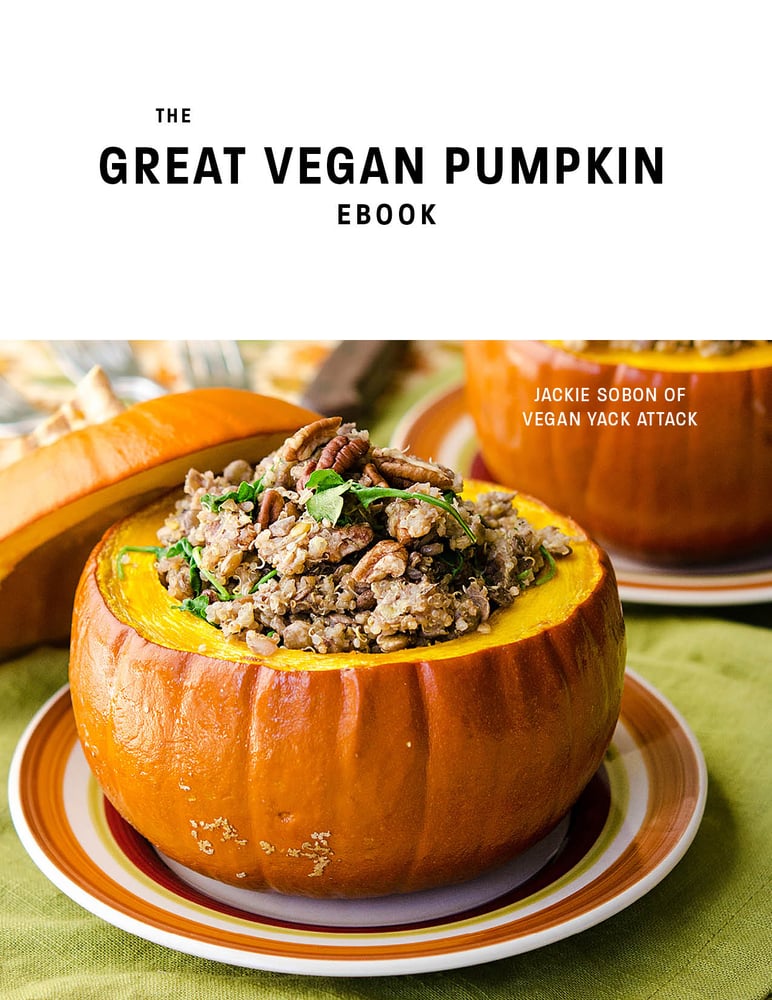 Click image to purchase the eBook, above! It's available annually, from October 1st to December 1st.